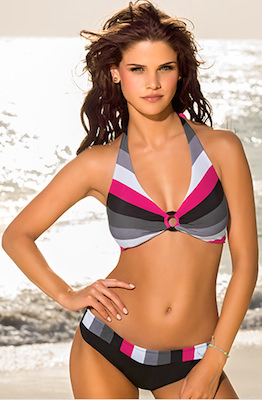 A day at the beach or a dive in the pool will be so much more fun when you have a great looking piece of swimwear.
This women's bikini has stripes on the top and panties and they are in grey tones and pink. Besides the stripes the panties have a big party that just is black and the top can be worn two ways one like on the picture with all the stripes or the other way around and then it's just plain pink.
This halter top bikini comes in a wide range of sizes to fit you need and to make you day at the beach even better.
Get your Black And Pink Striped Bikini for $80.00 and Free Shipping.
Other bathing suits you may like: