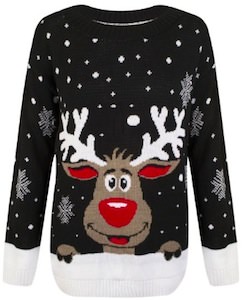 We are all looking for the perfect "ugly" Christmas sweater but did you see this one.
This knitted sweater has a white lower part (snow of course) and black above that with snow flakes big and small falling on the front and back of this Christmas sweater and then their is a red nose reindeer popping up on the front of this ugly Christmas sweater.
A Christmas sweater like this will be a great addition to you collection of holiday clothes and you can get this Christmas sweater in all kind of sizes to.
Get your Black Reindeer Christmas Sweater for $6.69