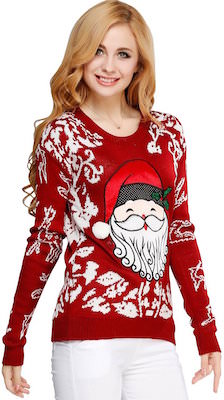 I have to say that is is a pretty ugly Christmas sweater but still it is kinda cute.
This women's sweater comes in red, black, white and blue and is available in sizes Small – XL.
On the front you can see the face of Santa Clause and besides that you can find a pretty busy print with all kind of Christmas details. And then on the back yo can find a big deer (click the picture above to see it).
So if getting ready for Christmas is high on your list then you have to see this Santa Christmas sweater and go from there.
Get your Santa And Deer Ugly Christmas Sweater for $24.99