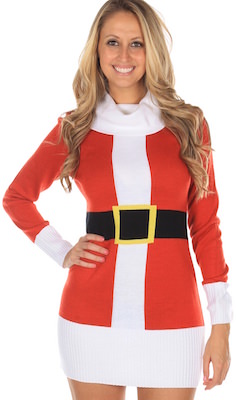 How would Santa Claus look if he was a women?
Just look at this Christmas sweater dress and you know.
This 100% acrylic dress is Santa red with white edges and a fake black belt that goes all around the dress.
Going to a Christmas party will be so much fun when you have a dress like this to wear.
And this Santa Sweater dress comes in sizes XSmall – XXL so that you can get the perfect size for you body.
Get your Santa Costume Sweater Dress for $64.95