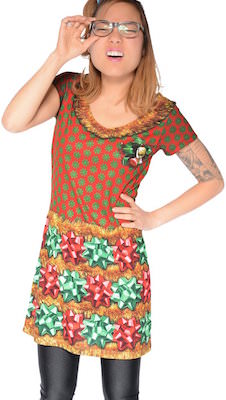 If you prefer a Christmas dress over an ugly Christmas sweater then you came to the right place because this Christmas dress is pretty ugly but very festive.
The dress is red and the top is covered in green flowers and the neckline has gold tinsel printed on it and then there are some bells on the top. The skirt part of this Christmas dress is covered with bows used for wrapping presents and rows of gold tinsel in between.
And no this not a 3D dress design so everything you see is printed on the dress but that keeps it in perfect shape for next year.
You can get this ugly Christmas dress in sizes Small – XL and it will be a hit at your Christmas party.
Get your Bow Ugly Christmas Dress for $28.00
Other Christmas things you may like: