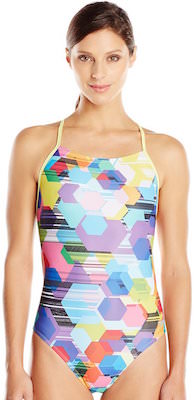 If you are looking for a swimsuit that will last and stay in place while swimming you laps then you know that Speedo is a brand to look at.
This Speedo women's swimsuit is one of those amazing piece that are great for the fast lane swimming or a day at the beach.
It's a one piece bathing suit that has thin straps for less coverage while staying comfortable. The back looks more like a bikini giving you lots of sun exposure when you wear it to the beach.
And this swimsuit has fun colorful poly gone shapes giving it a fun look.
You can get this Speedo swimsuit many sizes for the perfect fit.
Get your Speedo Poly Gone Swimsuit for $54.16 and Free Shipping.