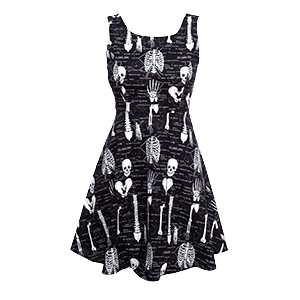 Halloween is the time of year that scary freaky things show up and this dress could be fun for Halloween as it glows in the dark.
The black dress has parts of the human skeleton all over it. You can see the skull and many other bones and when it's dark they all glow green.
Just imagine going to a Halloween party or opening the door with Halloween wearing this amazing dress.
Made from 100% cotton this Halloween dress comes in women's sizes Small – 2XL.