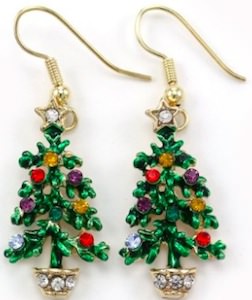 You can get all dress up for Christmas but you need some special jewelry to.
How about some fun Christmas trees for in your ears?
These little trees are green and decorated and even have a little pot and a gold star on top.
The Christmas tree earrings are about 1 tall and 0.5 inch wide making them a great size to be seen but not be in the way.
Now you Christmas parties will be a success just because of your nice Christmas jewelry.
Get your Christmas Tree Earrings for $8.99 and Free Shipping.
Other Christmas things you may like: