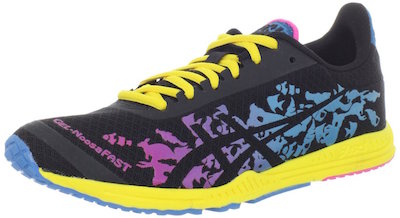 These ASICS running shoes are the perfect pair for a women that likes faction and comfort when they go for their run.
These Gel-Noosafast shoes just look amazing with black main color and yellow laces and sole and then the print design on the side of the shoe that if you look really closely has all kind of animals on it. I see kangaroo, koala and many fish. What do you see?
And these women's ASICS shoes have all the perfect things you expect from a running shoe from elastic laces for easy adjusting of you tension to breathability this shoe has it all.
And you can get these amazing looking running shoes in sizes 5 – 11 so that it will fit you like it should.
Get your ASICS Women's Gel-Noosafast Running Shoe for $32.65