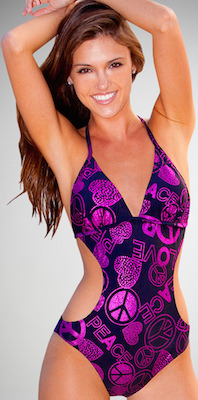 Peach love and sun that is what you want.
And maybe when wearing this one piece bathing suit to the beach will bring all that in reach.
This monokini women's swimsuit has a triangle shape so that sides and back get optimum sun exposure while the front is covered.
The swimsuit is black but has a lot of sparkle to it as it is covered in purple metallic peace signs and text and some hearts.
If you want world peace on the beach then you should check this swimsuit out.