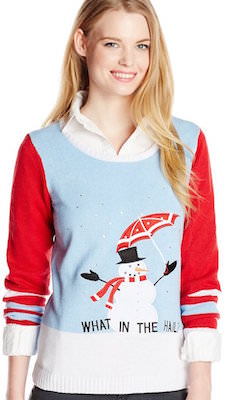 Everyone want ugly Christmas sweater but how about one that is not that ugly and would actually look good on you.
This women's Christmas sweater has red sleeve with light blue stripes and a light blue body. And on the front you can see rhinestones falling from the sky and there is a snowman that holds an umbrella and he says "What in the Hail?".
Of course this is an ugly Christmas sweater but one that really looks good on you.
You can get this women's Christmas sweater in sizes Small – Extra Large.
If you have some Christmas sweater parties to go to then you have to take a closer look as this could be the sweater to wear.