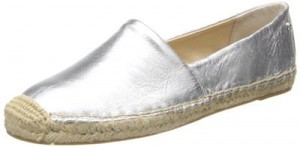 Why go for plain colored shoes when you can make them stand out?
These women's flats will stand out as they are a soft silver color. And these maybe silver but they are still leather.
Just imagine these fun shoes with a pair of jeans or cutoff shorts that would just look amazing.
And you can get these flats in sizes 6 -10.5 (and yes they come in half sizes to).
Bring some shiny glitter in your life with silver shoes like these.
Get your Women's Silver Flat Shoes for $52.99 and Free Shipping.