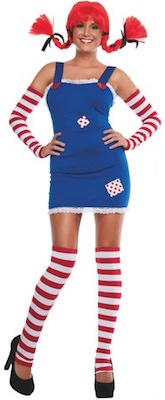 A good Halloween costume is fun in the first place and if it's a bit sexy to then that is a plus.
This costume makes you look like Pippi Longstocking. It has a fun blue jumpsuit with white lace top and bottom edges and fun shoulder straps. The costume also has a red hair wig with big pig tails. And then there are arm and leg warmers that are red and white stripes.
So you can look like the picture just by getting this fun Pippi Longstocking costume.
And this costume comes in sizes Small – XLarge.