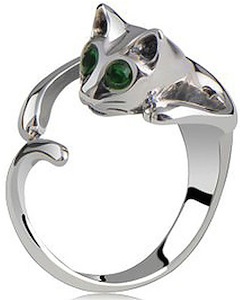 Do you like cats?
If you do then have a look at his kitten shaped ring. It's a special piece of jewelry that will be appreciated by animal lovers.
The ring is shaped like a cat with it's tail and paws making the ring shape and it's head being the focal point.
And this kitten has rhinestone eyes to stare at you all day long.
This metal cat ring comes in one size fit most and will be a great addition to your jewelry collection.
Get your Kitten Shaped Ring for $2.87 and Free Shipping.