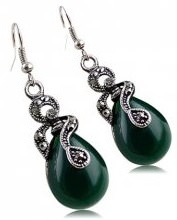 Looking for nice earrings that look classical?
How about these.
These hanging earrings are about 5 cm long and have a metal pendant that hold a drop shaped stone and that stone comes in green or wine red (your choice).
A pair of earrings like this are great to match with clothing and will make you look stunning.
Check out both colors by clicking on the picture above.
Get your Water Drop Style Earrings for $4.22 and Free Shipping.