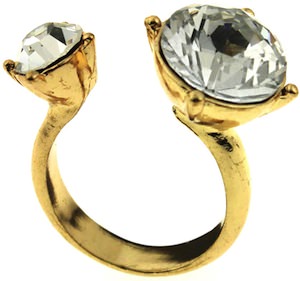 This ring is different and it all starts with that the top is open give it an open look while wearing it on your finger.
Having the top open makes it easy to adjust in size so that this ring will fit most people perfectly.
Besides being open the top has on each side a crystal one big and one small bringing the little sparkle to you fingers while it looks like you are not wearing a ring.
The ring is made from a gold colored metal making it easy to match with any outfit.
Get your Double Crystal Ring for $9.99 and Free Shipping.