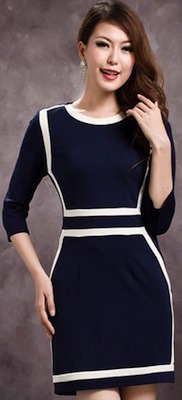 A blue dress will fit in closet and this dress will be not often in there any ways as you will wear it.
This dress is dark blue with sleeves that go to just over the elbows. On the front of this dress there are white details to make the shape of the dress standout nicely.
There a white lines around the edges brining out the top and bottom of the dress.
And this blue dress comes in a wide range of sizes from X-Small – X-Large.
Get your Blue Dress With White Accents for $73.99 and Free Shipping.
Other dresses you may like: