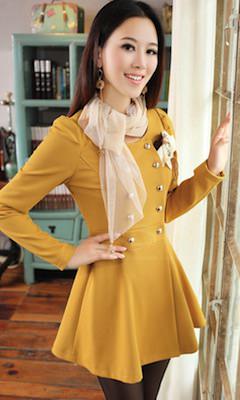 When they days get cooler a short sleeved dress is not ideal any more so we decided to show you this long sleeved dress.
The dress comes in colors yellow, pink, white and black and it is available in a range of sizes.
The dress has a Scooped neck, double breasted row of shiny buttons and a flared skirt part.
And this all gives it a real classic look and that makes the dress perfect for formal occasions or a day in the office.
Please click on the photo above to see how nice the other colors look on this dress.
Get your Double Breasted Flared Dress for $20.49 and Free Shipping.