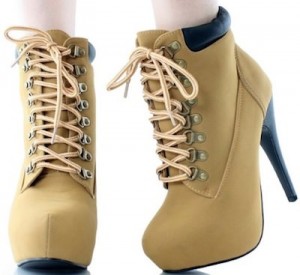 These heels are fun. They look a bit like hiking boots but then as high heels.
These heels look like camel colored boots with metal hooks and laces and a black back part just like a regular pair of hiking boots but then there is the black heel.
These women's shoes are different and that means you will not easily see them anywhere else and that makes you more special when you wear them.
And you can get these boots in sizes 5 – 10 and they come in half sizes to.
Get your High Heels Boots for $29.99