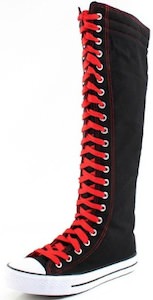 Is it one of those days that you can choose between you comfy sneakers or you knee high boots?
Then just don't choose go with these fun sneaker boots. The look like sneakers but are knee high and all laced up to.
Boots like these are great with shorts in summer and perfect with leggings and a skirt in winter.
We shown you the black boots with red laces but these sneaker boots come in different colors and designs and even different colored laces. And these fun boots come in women's sizes 5 – 11.
Get your Knee High Sneaker Boots for $17.71