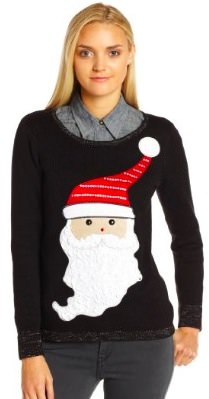 This black Christmas sweater is made from 100% cotton and has fun sparkly bits on the end of the sleeve, bottom and colar.
And yes it also has a big face of Santa Claus embroidered on to this sweater.
The sweater sure is cute but it's also kind of an ugly Christmas sweater.
If you are looking for the perfect Christmas sweater then let me tell you that this one is perfect and it comes in sizes Small – X-Large.