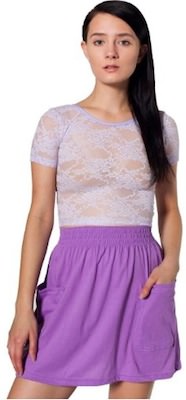 Looking for that all purpose skirt that fits right and looks great?
How about this skirt from American Apparel. The skirt comes in a wide range of colors and fabrics to fit your needs.
We show you the orchid color but it comes in black, blue, red, grey and even more colors.
The nice thing of this skirt is that it has two front pockets so that you can take some small things with your without the need of bringing a purse.
You can get this American Apparel Jersery Pocket skirt in sizes Xsmall – Large.
Get your Orchid Jersey Pocket Skirt for $30.00