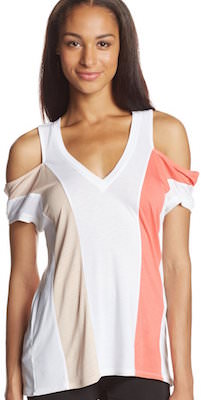 If you can't choose between a tank top or a t-shirt for that summer day then why not get best of both worlds.
This t-shirt has sleeves but also keeps the shoulders bear like a tank top and that just vies a completely different look that is nice and playful at the same time.
The shirt has big white panels and some other colored panels to that are light enough to still make it easy to combine with other clothes.
Get your Open Shoulder T-Shirt for $41.36