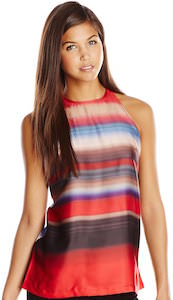 Long sleeves are for when it's cold and fun tops are for summer.
This tank top has a fun striped design and cover the whole from all the way up to the neck and the back has a racer look but also in the middle there is a open band going all the way to the waist showing of some of your back.
All that makes this top just fun and it will work with so many outfits but don't wear a jacket over it other wise the back details get hidden.
Click on the picture above to see the back of this top.
Get your Nenet Daft Punk Tank Top for $40.98