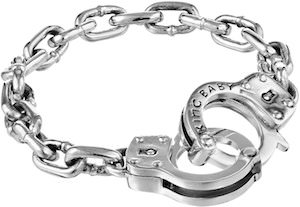 If you are looking for a unique bracelet then you should look at this bracelet designed by King Baby.
This sterling silver bracelet is handmade in the United States.
And this silver bracelet has a special clasp that are handcuffs. So these cuffs are perfect on jewelry for that special someone that likes to use those cuffs.
And of course this bracelet comes in a nice gift box so that you can surprise someone with it.
Get your King Baby Handcuff Clasp Bracelet for $935.00 and Free Shipping.