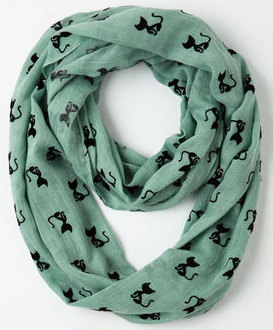 Are you a real cat person?
If you are or just like cats a little bit then this infinity scarf could be perfect for you.
The card if green and on that you find a whole lots of black cats sitting neatly ready to go on adventures with you.
At 66 inch round and 20.5 inch wide this scarf is just the perfect size for around your neck.
Summer or winter this scarf will make you look stunning and keep you warm.
And the green and black from this print are just easy to match with so many outfits.
Get your Cat Person Infinity Scarf for $19.99