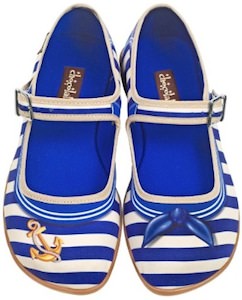 Are you looking for the perfect pair of shoes for a cruise, sailing or a walk at the sea side?
How about these women's flats made by Hot Chocolate.
The shoes have blue and white straps and some typical sailor details and like most Hot Chocolate shoes the have mismatch designs so each foot has it's own design.
These Mary Jane flats have a cushioned foot bed and come in sizes 5 – 10.
Get your Blue And White Sailor Flats for $69.99