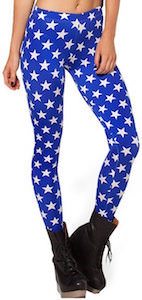 Of course you are a star and by wearing these blue leggings you can show the world how much of a star you are.
These blue women's leggings are covered in white stars and that make them look almost like they are part of the American flag.
And these blue star leggings are made from 88% polyester and 12% spandex and that makes them nice and stretchy so that they will bring out the best of you.
Get your Blue Leggings With White Stars for $22.95 and Free Shipping.