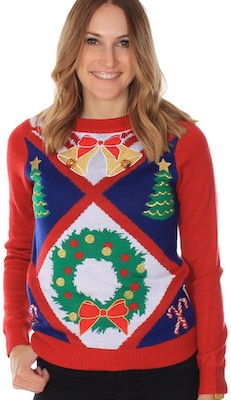 Of course you want an ugly Christmas sweater and this could be the ugliest you have seen.
Work, school or a Christmas party all are perfect for this women's sweater.
The sweater has red long sleeves and on the front and back you can see red, blue and white in the background with big panels in witch you can find wreaths, trees, candy cane and bells. Yes this is a sweater that has everything you need for your Christmas decorations but then on an ugly Christmas sweater.
This women's Christmas sweater is available in many sizes from XSmall – XLarge so that many of us can enjoy one.
Get your Bells are Ringing Christmas Sweater for $64.95
Other Christmas things you may like: