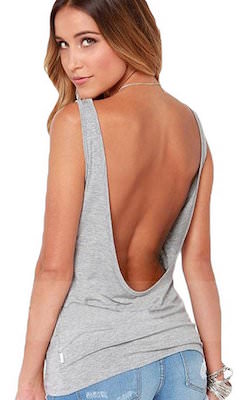 On the front this women's top looks like any other tank top. On the back it's a different story as it is basically back less it does have some fabric on the bottom part but most of you back will be exposed when you wear this fun top.
You can get this special tank top in grey or black and both come in sizes Small, Medium, Large and Extra Large.
A shirt like this is just fun for a party or maybe for a warm day and sure it will make people notice it but hey that is a good thing right.
Get your Backless Tank Top for $6.61 and Free Shipping.