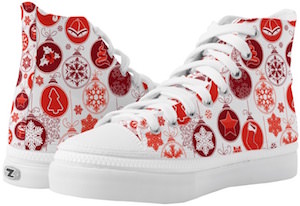 We have so much Christmas clothing here that you can dress up head to legs as until now the Christmas shoes where missing but we got you covered.
These high top sneakers are ready for Christmas.
The sneakers for ZIPZ are white but have a design printed on it of red Christmas ornaments. Different Christmas details like snowflakes, stockings and of course the Christmas tree can all be found in red on these shoes.
And these Christmas sneakers come in women's sizes 6 – 15 and they come in men's sizes to.
You may also like: