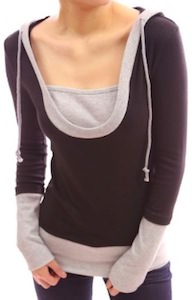 Looking for a fun casual top for everyday?
This women's hoodie is fun and has two tones so that it looks you are wearing two shirts while you are actually wearing one.
A fun design with hood and great shape this sweater will be a hit in your clothes collection.
And this hoodie comes in different color combinations to. It comes in Black, Pink, Blue, Green and Purple and all have grey as the second tone.
If you want something fun then you have to check this one out.
Get your 2 In 1 Hoodie Blouse Top for $35.00