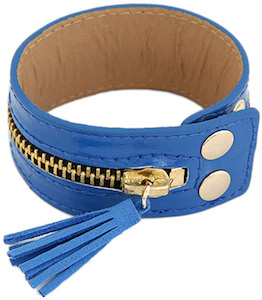 Now you can have a fun bracelet with a zipper and a tassel.
And this bracelet comes in 3 fun colors blue (see above), black and pink and each just looks fun with a gold colored zipper and buttons to close.
A bracelet like this add some fun details to your outfit and that makes it a great accessory to have.
Get your Zipper Tassel Bracelet In Pink, Black And Blue for $11.99 and Free Shipping.