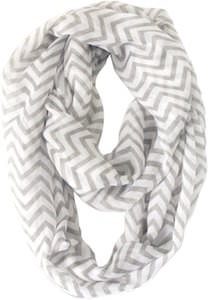 If you are looking for a light weight and light colored infinity scarf then have a look at this one.
This scarf from Vivian & Vincent is 19 inch wide and has a total loop of 60 inch. The light grey color with a zig zag pattern makes this scarf fun to add to many outfits.
A inifity scarf like this can be worn just to make your outfit perfect or to keep your a little bit warmer.
So if a light infinity scarf is what you want then take a closer look.
Get your Vivian & Vincent Grey Zig Zag infinity Scarf for $8.99