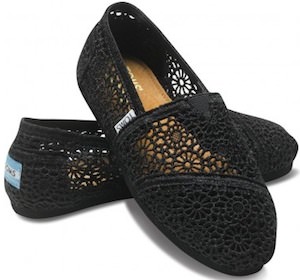 Summer is the time of year you like to wear fun and comfortable shoes.
Toms are classics by now and this time we show you the Crochet style.
These women's shoes have a Crochet look and feel as fabric and that means that you can see through them and your feet can breath in the summer sun.
These classic Morroco style shoes come in a whole bunch of colors from these black once to red but there is to much to choose from so click on the picture to see all the options.
And these women's flats come in a wide range of sizes from 5 – 12 and yes half sizes are there to.
Get your Toms Crochet Classic Shoes for $34.41