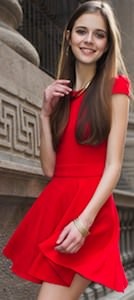 This red dress will make people look and wonder why they don't have one in their closet.
As you can see on the picture this is a stylish but playfull dress with a nice top with short sleeves and then a a pleated skirt part that makes it all look amazing.
Great for everyday wear for almost any occasion.
Available in Small, Medium, Large and XLarge you will get the perfect fit for your body.
Get your Red Pleated Dress for $43.99 and Free Shipping.
Other dresses you may like: