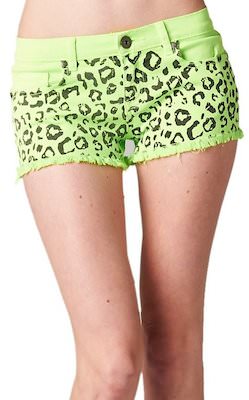 When summer is here you want to show your legs to the sun so that they can get a nice tan and to do that you of course need so fun shorts.
These lime green shorts are the jeans cut off style that look like they fray. But these shorts are not just lime green, no these shorts have a leopard print design on the front.
Now a walk through the mall or a day at the beach will become so much better just because of these fun looking shorts.
And these cut off shorts come in sizes Small, Medium and Large.
Get your Leopard Print Cut Off Shorts for $23.95