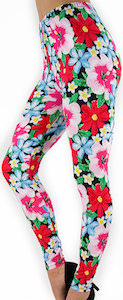 These leggings just make you feel like summer.
The leggings are covered in red and pink flowers and they are kind of bright but hey they will real make your legs stand out nicely.
Now you can have fun leg wear that you can wear just like this or with a fun short, skirt or dress.
Just click on the picture above to find out about all the details of these floral leggings.