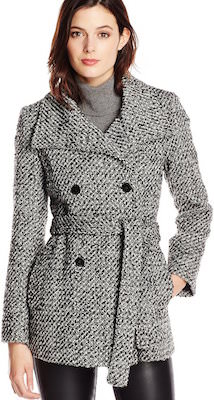 When the weather get colder then of course you want a coat or jacket that looks good and keeps you warm.
This coat made by Calvin Klein will just do that.
The coat has a acrylic / wool blend fabric that looks like it's black and white giving it a grey look. It has double breasted buttons and a belt and just looks stylish and warm.
And this women's coat comes in many sizes so that you can get the coat that will be the perfect fit when you wear it with you favourite winter sweater.
Get your Calvin Klein Black And White Women's Coat for $103.60 and Free Shipping.