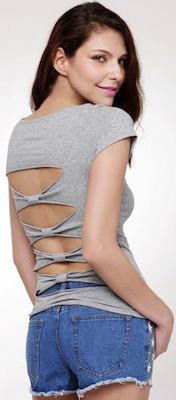 Now t-shirt are fun again.
This heather grey shirt has a round neckline that cuts lower on the front and on the aback it has 4 little bows and they bring together the fabric making you back look partly bare.
A shirt like this is great for summer as you can show some skin and get a fun tan on your back.
You can get this bow back shirt in wide range of sizes to fit your body perfectly.
Get your Back Bow Cutout T-Shirt for $21.00