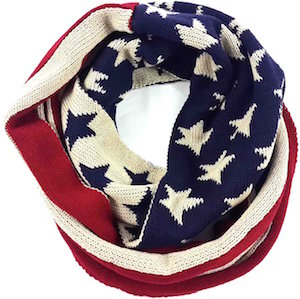 This infinity scarf is not just a thin fabric this one is knit and that makes it perfect as a winter scarf as well.
And as you can see this scarf has the US flag on it.
Yes the American stars and stripes are the base of this scarf.
The flag scarf is 12 inch wide and has a loop of 59 inch making it perfect for a cool day.
Get your American Stars And Stripes Infinity Scarf for $11.99