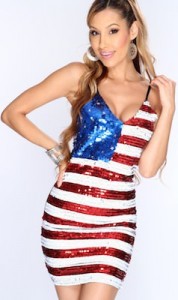 Show the world how much you like the United States Of America by simply wearing this amazing sequin dress.
The back of the dress is black but the front shows the US flag made out of sequin. Red and white sequin stripes and a blue sequin square that even has sequin stars.
This dress has a v-neck and spagethi straps and is great for a party.
Maybe this can be you goto 4th of July dress.
Get your American Flag Sequin Dress for $25.14 and Free Shipping.
Other dresses you may like: