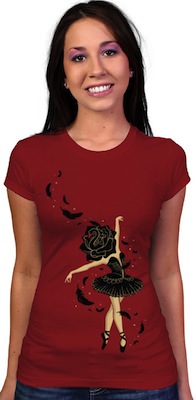 This t-shirt shows a ballet dancer all in black and a head that at first looks like a flower but if you look closer you see it is a black swan and then there is all kind of swan feathers flying through the air while the dancer dances.
This ballet t-shirt comes in a range of colors to make it fit perfectly by your closet needs.
Made from 100% cotton this black swan t-shirt will stay in shape for along time.
And you can get his t-shirt in sizes Small – XL.
Get your Black Swan T-Shirt for $24.00
NOW get 10% off this product code STYLE10