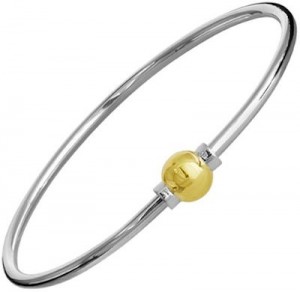 This bracelet looks really elegant and clean.
It's a Sterling silver hoop and has a 14k gold ball in on it.
And the silver and gold colors make this bracelet look stunning and I believe that this bracelet could become one you would wear almost any day of the week.
And the bracelet comes in 3 sizes 6, 7.5 or 8 inch.
Just imagine this bracelet on your wrist and you know that it goes with almost any outfit.
Get your Gold Ball Bracelet for $86.99 and Free Shipping.