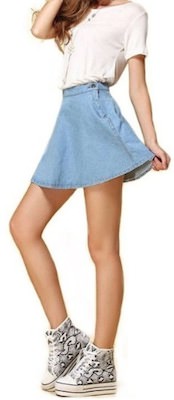 Short skirts are great for the sunny days show you legs and enjoy the sun.
This mini skirt has a high waist and a a-line design making it airy and fun to wear.
Twirl the skirt and enjoy summer. Just imagine walking around town or maybe the beach in this fun denim skirt.
And if you think the denim is to dark then you are in luck as there is also a lighter blue version available.
And this denim mini skirt comes in sizes X-Small, Small and Medium.
Get your Hight Waist Denim Mini Skirt for $8.99