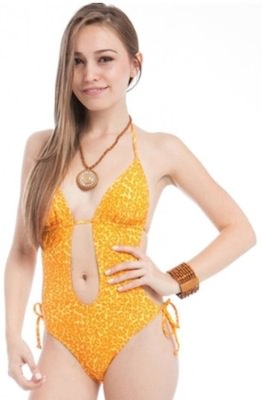 This yellow swimsuit has a animal like print in two tones of yellow.
And this is a monokini with a haltered top for women that want a one piece and still like to show some skin.
The back of this swimsuit look just like a bikini with that pants and a string and the front is one piece of fabric.
But that one big piece of fabric has a cutout on the front making your belly button visible again.
This bathing suit looks different and that is what you want at the beach look different from everyone else.
Get your Yellow Print Monokini for $14.39 and Free Shipping.