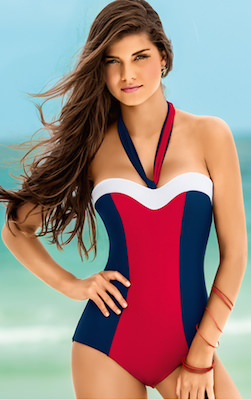 This one piece bathing suit is strapless but comes with two sets of optional straps to make this piece of women's swimwear versatile.
The swimsuit is dark blue with a big red panel on the front and a white band around the top.
And those colors make it look classy and sporty.
Your dip in the pool or sea will be fun when you wear a swim piece like this.
And yes you can get this strapless one piece bathing suit in a range of sizes to fit you like it should.
Get your Blue And Red Strapless Bathing Suit for $95.00 and Free Shipping.