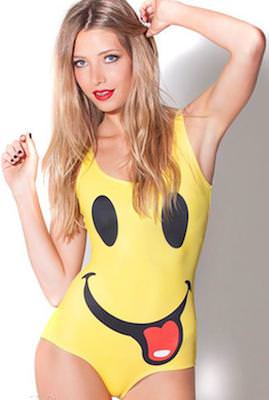 Sun, Sand and water all that needs now is you in a fun piece of swimwear.
This yellow one piece bathing suit is perfect for a day at beach or a quick swim at the pool.
And the bathing suit is not just yellow no it has a smiley face on the front and back and this smiley face is not just smiling it also sticks it's tongue out and that makes it even better.
People will be smiling at you and maybe one or two will stick their tongue out to you.
If you want a fun day swimming then you have to see this swimsuit.
Get your Smiley Face Swimsuit for $15.19
Other bathing suits you may like: