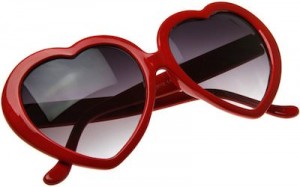 Sunglasses are a great way to state you mood and of course they can be fun to.
These women's sunglasses are heart shaped and come in bunch of fun colors like red, pink ,purple, blue, white and black and they are available in a lens width of 52 or 60 millimetres so that you can choose the size that looks best on your head.
And these sunglasses give protection agains UVA and UVB rays.
Get your Heart Shaped Sunglasses for $4.60 and Free Shipping.