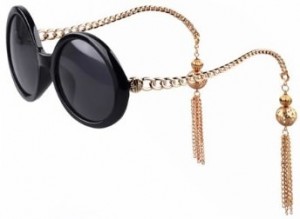 Sunglasses are one of those accessories  you can't live without.
Not only do they keep your eyes free of the the bright sunlight they also make a statement.
And now there are sunglasses that don't have the typical arms that go to you ears. This time the arm is a chain and on the end there is a tassel witch all makes these glasses look special.
And besides the black color from the one on the picture you can also get these glasses in a leopard print, blue, green and tan color.
Get your Chain And Tassel Sunglasses for $11.99