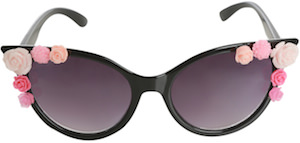 Sunny days are perfect to wear some fun sunglasses.
And now there is this pair of black cat eye shaped sunglasses. And that is not all. The top edge outer corner of the sunglasses has little flowers on it in light colors like pink and re.
A pair of sunglasses like this is more personal then just the boring flat designs and you day out in the sun will become better if you see it through a pair of floral sunglasses.
Get your Black Floral Cat Eye Sunglasses for $10.00