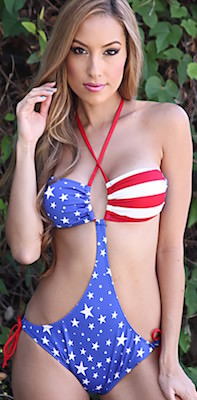 If you want a patriotic swimsuit then this women's monokini could be perfect for you.
The monokini has a mainly blue design with white stars except for one breast cup that one is red with white stripes just like the American flag. And all that fabric is hold together with a red strings to make it all look fun.
Now a day at the beach or a visit at the pool will be great again because the one piece bathing suit you are wearing.
You can get this stars and stripes monokini in sizes Small, Medium and Large.
Get your Stars And Stripes Flag Monokini for $23.64
Other bathing suits you may like: