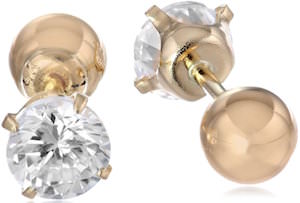 Is you jewelry box crammed as it is?
Then how about this pair of earrings that have two ways of wearing them.
On side is a 14k gold stud earrings and the other side is a Cubic Zirconia 0.5 carats stone.
And so you see two pair of earrings in one. the top screws off so that it is easy to wear.
With earrings like this you are ready to go to two parties and they don't even take any room.
And yes men these earrings make for the perfect present to.
Get your Cubic Zirconia Reversible 14k Gold Stud Earrings for $29.89