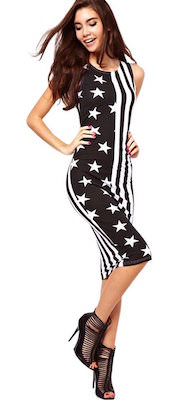 Now you can wear the American flag dress without showing all the red white and blue.
This fitting dress looks like the American flag but in black and white.
The dress is sleeveless and comes to about the knee. Half of the dress is black with white stars and the other half shows black and white stripes going from the top to the bottom.
You can get this US flag dress in sizes XSmall – 2XL so that many of us can enjoy one.
Get your Black And White Stars And Stripes Flag Dress for $22.50