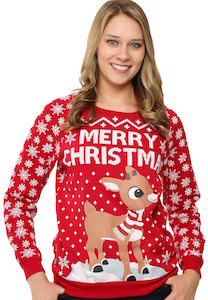 If you are looking for a fun Christmas sweater that is also cute and not to ugly then this could be the one.
The red Christmas sweater is covered in snowflakes on the front, back and even the sleeves and on the front it also shows the text "Merry Christmas" and below that Rudolph the Red-nosed Reindeer and he is wearing a scarf.
Yes it is a cute ugly Christmas sweater and that makes it so perfect for around the holidays. Parties will be a hit because everyone loves Rudolph and then after all the parting is done you can watch Christmas classics on TV while wearing this fun sweater.
You may also like: